Dependent or nested items can be defined so that the workflow is inter-linked between all items.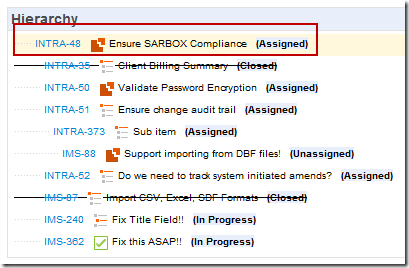 In the above example, INTRA-48 is the to level item and it has several nested items that all have to completed BEFORE this item can be closed. Note that dependent items can span different projects.
As items are closed, Gemini strikes them out.
Linking Existing Items as Dependencies
The Hierarchy Tab allows for existing dependents to be remove. You can also click on the Find Item link and start typing the title of an existing item. The selected item will then be added as a dependent of the current item.

Creating New Items as Dependencies
Alternatively, you can add new items as dependencies by clicking the Create link.