When an item is opened for viewing, all the details related to that item are displayed. This includes:
item description
item attributes
item custom fields
attachments
comments
parent/child relationships
item links
created, revised, closed dates
Here is a typical view of an item: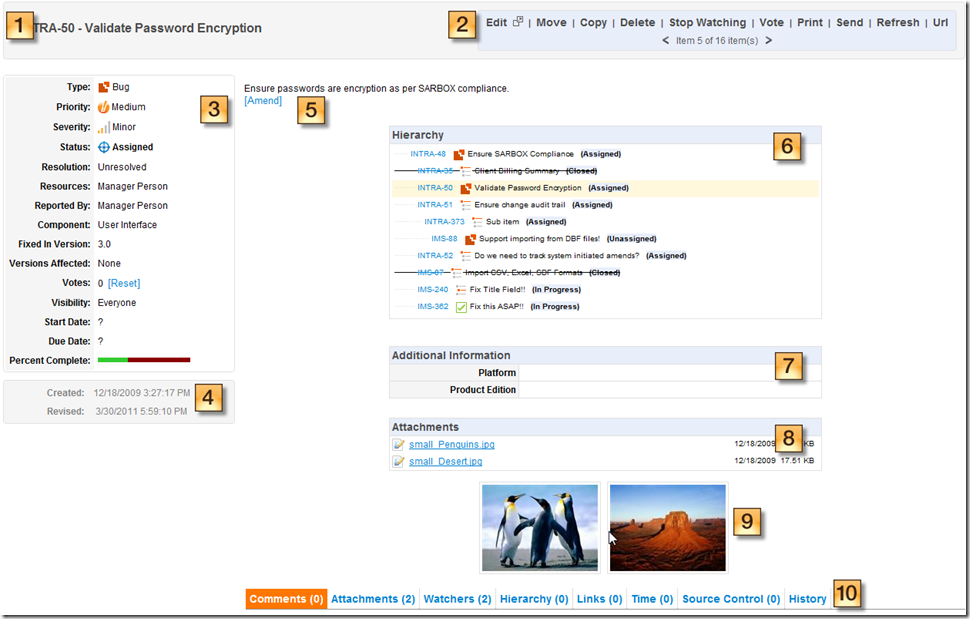 Depending upon the item type and the way the Gemini Administrator has configured screens, you may see more or less elements on the page (as per above). This is because Gemini Administrators can configure Gemini so that different view screens are used for different item types. For example a Bug may show 12 attributes whereas a Task may only show 7 attributes. Furthermore, Gemini Administrators can even choose to show certain item attributes and Tabs to users who belong to particular user groups.
These settings are all controlled via Item Screen definitions.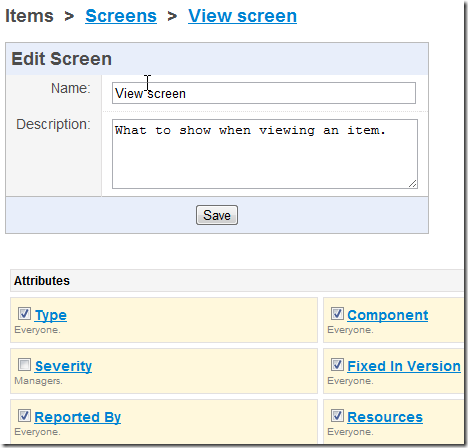 You can then attach the screen definition to the relevant item type: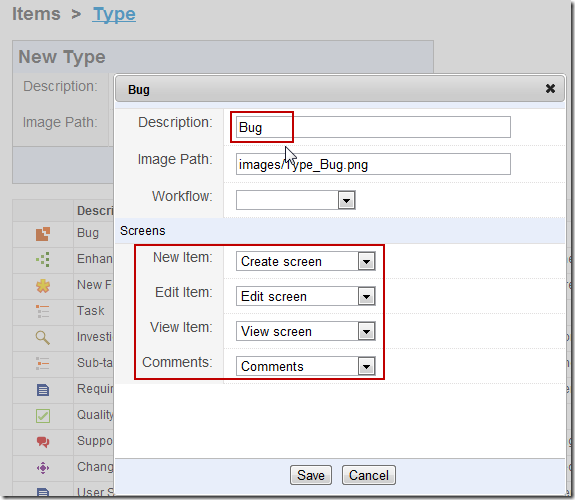 Inline Editing
Virtually all fields/data being displayed when viewing an issue can be point, click, inline edited. This facility does however depend upon whether the user has appropriate editing permissions.
1 – Title
The title is prefixed with an Item Key that consists of the Project Code and a unique number, for example "AMC-61" where AMC is the project's code.
2 – Actions
Depending upon user permissions a number of actions are presented top right (and are self-explanatory). Within the action pane itself, you can also navigate to the next or previous item in the currently filtered items selection.
Here is where you define the current items filter.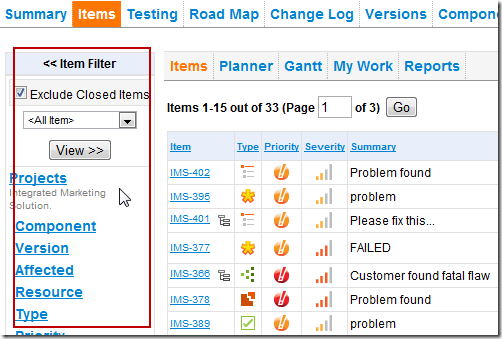 3 – Attributes
Attributes can be inline edited and only those attributes relevant to the item type are displayed. Hence you may see less or more attributes for different item types.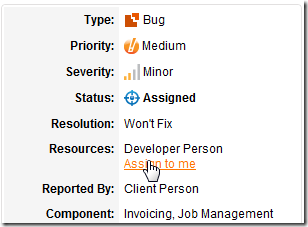 4 – Dates
Item creation, revision, and closed dates are displayed. You may also see the source of the item if the item was created automatically as a result of an inbound email or a failed test run.

5 – Description
The description can be edited submit to user permissions. However, editing should only be performed to provide supplementary information or to make corrections.

6 – Hierarchy
Dependent or nested items can be defined so that the workflow is inter-linked between all items.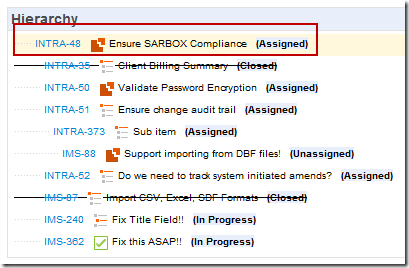 In the above example, INTRA-48 is the to level item and it has several nested items that all have to completed BEFORE this item can be closed.
As items are closed, Gemini strikes them out.
Also note that dependent items can span different projects.
7 – Links
Item Links allow referential links between two or more items indicating whether they are grouped, related, duplicated, etc. There is no workflow associated between such items.

Gemini Administrators can define their own link types such as "grouped".
8 – Attachments, 9 – Image Previews
Multiple attachments can be added to each item. Preview images are produced automatically for all image attachments.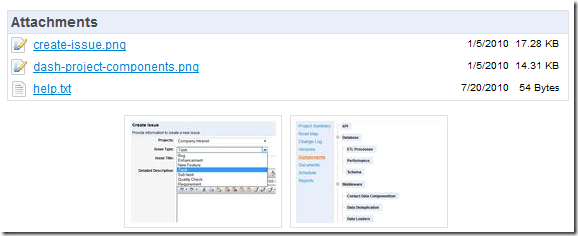 These are not the same as attachments within item comments.
10 – Tabs
Depending upon user permissions, Tabs at the bottom of an item may appear.

Subsequent sections detail each tab and it's content.