An item in Gemini represents something that can be assigned to a resource (or resources) that requires effort to complete it. An item can represent a Bug, Task, Enhancement, Requirement, Change Report, Support Ticket, Investigation or anything you wish.
Here is a list of pre-defined item types that ship with Gemini.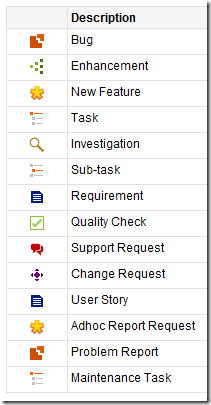 You can amend existing or add your own item types and vary them by project.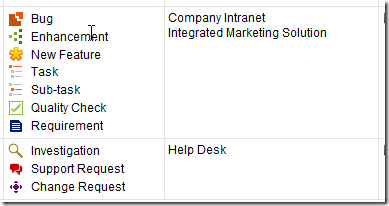 Core Fields
Out of the box, an item can have the following attributes (fields) against it.
Project – where does this item belong?
Type – what is the type of the item (e.g. bug)?
Title – short title
Description – detailed description, can be rich text and may contain images.
Visibility – who can see the item?
Components – which components does the item belong to within a project?
Priority – when should the item be addressed?
Severity – what is the impact of the item?
Resources – who is working on the item?
Status – what is the current status of the item (e.g. In Progress)?
Resolution – what was the outcome of the item (e.g. Will Not Fix)?
Fixed Version – when is the item scheduled?
Version Affected – which previous project iterations does the item affect?
Start Date – when are we supposed to start work on the item?
Due Date – when are we expected to finish work on the item?
Work Estimate – what it is the estimated effort in hours/minutes for the item?
Percentage Complete – what is the current progress of the item as a percentage figure?
Reported By – who reported (logged) the item?
Recurrence – does the item require repetitions?
Attachments – multiple attachments for the item
You control who can see and edit which field and when by per item type. For example you may have different field requirements for Bugs and Tasks and even control which user groups can perform which actions on these items.
Workflow is used to control how an item flows through it's lifecycle of creation to closure.
In addition core fields, custom fields can also be defined and attached to items.