Gemini allows you to map Gemini groups with Active Directory groups and to use Windows Authentication for single sign-on. With AD integration, users are automatically added or removed from the Gemini groups according to the Active Directory groups.
Pre-requisites
You require a valid Windows user with Gemini Admin privileges in the system (domain\username). If you do not do have such a user then you may not be able to log on after switching to Windows authentication. This user account will need to be able to log on to Gemini for the configuration settings (and must therefore exist as a user in Gemini with Admin privileges) and access the AD domainto retrieve the AD groups.
Steps to set up AD Integration
Navigate from the Customize link in the top right hand corner of the screen (authenticated users with Gemini Admin Privileges will see this) to the System tab. From there, select the Active Directory tab.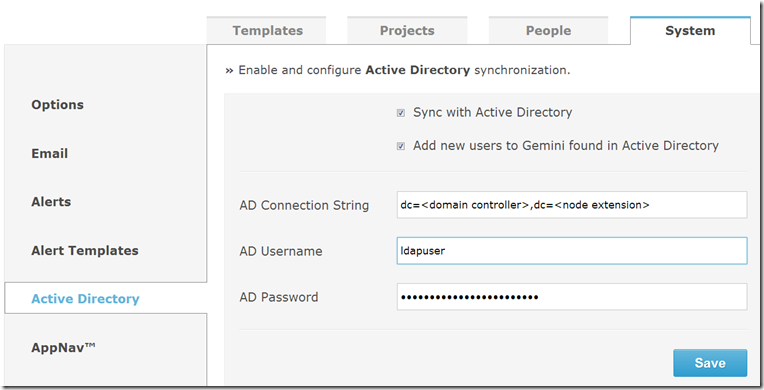 Select "Sync with Active Directory" and "Add new users to Gemini found in Active Directory"
Enter the LDAP connection string. For example: "dc=<domain controller>,dc=<node extension>". If the domain controller is not in the same domain as Gemini then prefix the connection string with "<domain controller>/" for example "jerry/dc=acme,dc=com"
Use either <domain>\user login syntax for the username or user@<domain> syntax. For example "acme\PETER" or "PETER@acme.com"