Project Templates
All projects in Gemini 5 are created from Project Templates. This ingenious architecture is what allows Gemini to be the only Project Platform of its kind where different stakeholders, with different taxonomy and processes can work together in one tool. Gemini can allow users on a Help Desk to work with the Software Developers, Project Managers, Testers and End Users in such diverse departments as Marketing and Finance, to work on the same projects/tasks seamlessly. Because Gemini makes cross-project analysis so simple, enterprise-wide tracking of tasks and analysis of utilization is no longer an issue. Gemini lets you analyze cross-department utilization because it is a tool that ALL departments can use simultaneously to track their tasks while having their terminology, taxonomy and processes respected.
To set up Project Templates, navigate to the Customization section from the Customize link in the top right hand section of the menu. If you are a Gemini Administrator you will then be able to navigate to the Templates tab.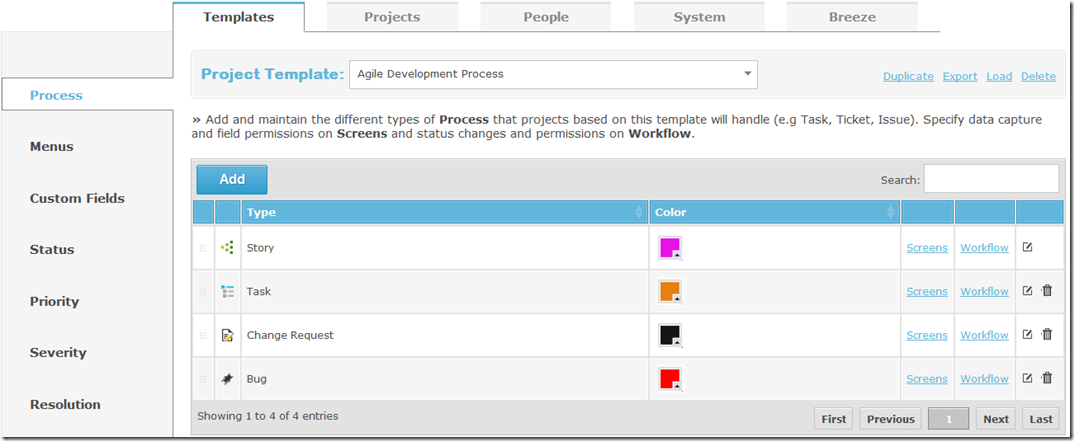 Creating Templates
Creating Templates from scratch is a highly technical process and not recommended for most users. It is much better to duplicate an existing Template, using the Duplicate link at the top right of the page and then modify the resulting Template. If you duplicate a Template you will be prompted for a Template Key and a Template Name. We recommend that for consistency you name your Template Key in uppercase. The Template Name is what will be displayed in Gemini screens, so do not create a scenario where, for example, you have the Template Keys HDSK1 and HDSK2 with identical names "Help Desk" as you will not see the key to be able to subsequently make a distinction between the two.
Exporting Templates
When you create a Template you create a zip file that Gemini will unpack if it finds it in the Templates folder of the web application. When you export a Template you do exactly the same thing – create zip file. This file can then be transferred between different Gemini instances allowing you to create a global definition of a project – its processes, statuses, workflow etc. and share this with other Gemini users in physically separate instances. If you click "Export" then Gemini will export the currently selected Template, creating a zip file of the same name as the Template Key.
Loading Templates
If your license permits it, you can load Gemini Templates that have been sent to you or which have been created in other Gemini instances, immediately creating an entire project and process sub-system that you can work from.
Learn more about Templates
For more on Project Templates, the unique way in which Gemini lets you tailor its powerful functionality to you, read the rest of the documentation starting here, with Processes.