Project Templates
Process Workflow
Once you have created a Process definition and defined the Statuses for your Project Template, you need to define your Workflow, which is the transition of your items through the process from one Status to another. To do this, click on the "Workflow" hyperlink (on the Process Page) to the right of the screen. You will see the following screen:

The screen shows the Statuses that are available to your process. You can reuse an existing Workflow from another process or define a new one. The Drawing Area, a large white space below the Status Cards is where you can drag and arrange the Statuses. Click on the colour box for a status and hold down the mouse, then as you drag the mouse over towards another Status Gemini draws a line connecting the two Statuses showing the direction in which the Status can flow e.g. From Unassigned to Assigned. You can create circular references e.g. Open -> In Progress –> Closed –> Rejected –> Open or simple toggle states e.g. Unassigned –>/<- Assigned.
Securing Status Transitions
To specify which Groups of users are allowed to make the transition from one state to another, click on the arrow linking the two states and Gemini will present a popup box from which you may choose user Groups with access to Projects based on your Project Template. Select as many Groups as required.
Below is an example of what a completed Workflow can look like (showing in this example, the Groups that can move an item from Status "Parked" to "Reopened") :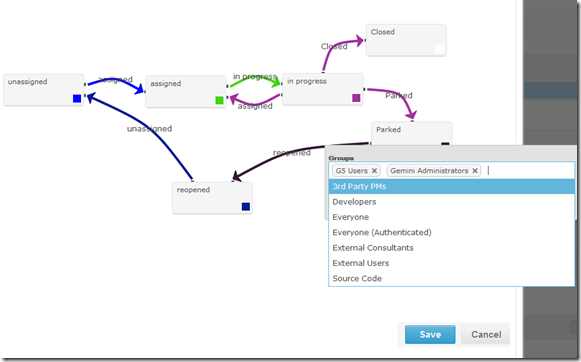 Click "Save" and Gemini will instantly build the Workflow rules.