Project Templates
Menus
In Gemini you can switch menu options on or off, set access permissions and alter the menu description to reflect the terminology of the users who require the functionality behind it.
Navigate to the Customization section from the Customize link in the top right hand section of the menu. If you have the appropriate privileges you will then be able to navigate to the Templates tab and the Menus sub tab (see below).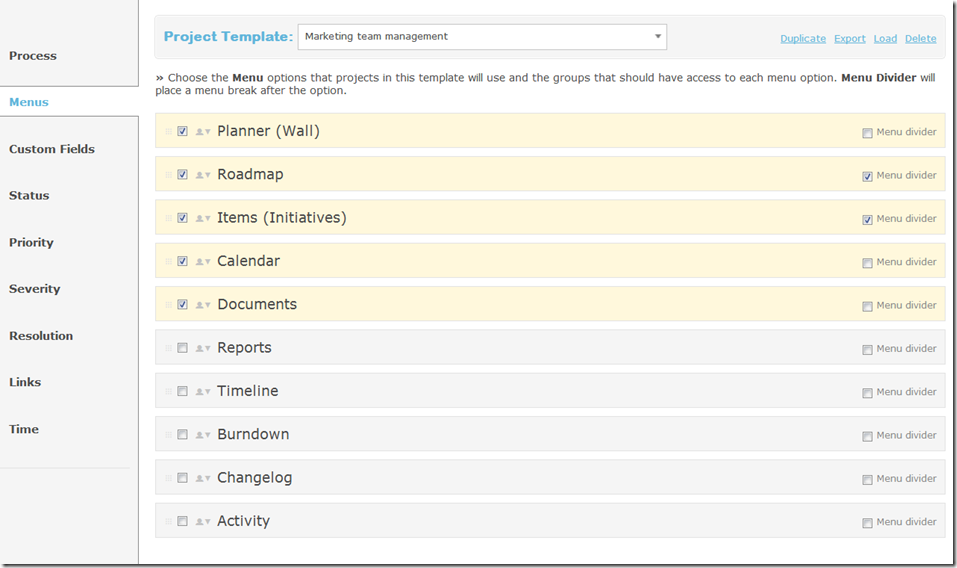 To have Gemini draw a line under the menu item, to separate it, set the "Menu Divider" checkbox on the right of the screen to checked.
Enabling menus and granting access
To enable or disable a menu, simply click on the check box next to it.
To set the permissions for the menu, click on the person icon

. You will be prompted to select the Group(s) that you wish to grant access to this menu to. By default, if you do not select one or more Groups but you enable the menu, when the record is saved the menu will be enabled for the system Group "everybody", meaning any user with access to a project based on the Template will also have access to that menu function.
Changing menu labels
In order to change a menu label, you will need to have access to the resource files that are located in the sub folder of the templates folder in the Gemini web application. If you create or amend an entry that exactly matches the menu name then the menu and any attributes that are identically named will reflect the value in the resource file. For example if you had an entry in "resource.xml" in a template folder that was: <item id="Items">Stories</item> then the Items menu would be renamed "Initiatives", as in the screen shot above.